7 Curly And Kinky Hair Salons To Visit Post LockDown
Candour Beauty Guide : 7 Curly and Kinky Hair Experts to visit in the UK post lockdown

The last 12 months have been a challenge when it's come to our hair. The salons have been closed just more than they've been open which has made it hard to stick to a schedule and the stress of the pandemic has led to a rise in stress-related hair loss.

It's not all bad news, as lots of us have adapted to looking after our hair at home and experimenting with more protective and natural hair styles.

That being said, we're thrilled that the salons have opened their doors again from 12th April. In the UK, there are over 35,000 hair salons registered to trade and less than 1% of those specialise in black hair as Afro Caribbean hairdressers. This is despite a significantly higher percentage of the UK population having curly, kinky or textured hair.

So, if you're thinking "What's the best afro & curly hair salon for me to go?" Here's our curated list of salons and stylists that we can't wait to visit.

CHOP CHOP LONDOn-@chopchopldn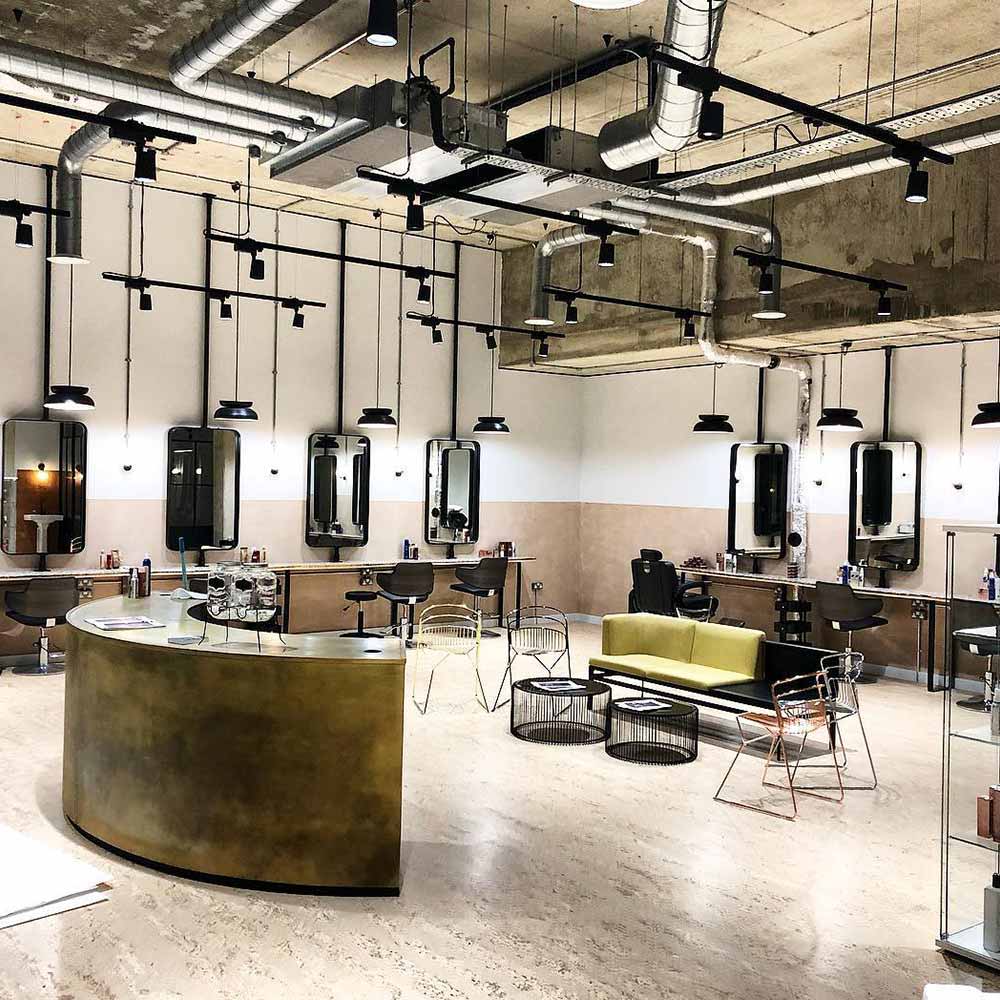 Chop Chop has a range of luxury salons across London. Founded by Kaye Sotomi, Chop Chop salons are gender neutral and can work with any texture of hair whilst still providing the best customer service. Their slogan is "No gender, no texture, just hair." And this is reflected in their pricing – no separate pricing for men and women, just a price for the hair service and time spent.
Founder Kaye and his Co-Founder Laure set up Chop Chop after realising that three friends of different ethnicities couldn't walk into a high-street salon together without one of them being turned away because of their hair texture. They also wanted to reduce time spent in the salon, against a backdrop of ever-increasing busy lives.
Their entire ethos is about enhancing and contributing to the lives of their customer in a positive way as well as focusing on inclusion, innovation and convenience. They incorporate sustainability, gender neutral colours, a minimalist approach into all of their salon spaces and colours. Their stylists are all trained to work with different hair types and embrace individuality.
They offer trims, styling, barbering and cutting at all of their salons with a range of 24 services, all timed and priced accordingly regardless of gender or hair type.
Where to find them: 60 Charlotte Road, London, EC2A 3QT
3 Weaver Walk, Wembley Park, HA9 0GX
Westfield Shopping Centre, London, W12 7GF#
Best for:
Dry Hair cutting and restyles

Male & Female Grooming
Charlotte and her team run the Hair Lounge in London. The salon excels in luxury, customer service and first-class services to care for and maintain Afro hair. They offer natural hair styling, extensions and weaves, colour services, braiding, treatments and relaxers at their Portobello Road salon.
Inspired by her late mother, and using hair braiding as way to connect with her younger sister, she left school and went to work in one of the first black salons in the UK – Splinters – and her career skyrocketed from there.
As well as her own afro hair products line, she's written a must-read book that celebrates the unique beauty and history of black hair called Good Hair: The Essential Guide to Afro, Textured and Curly Hair.
Charlotte has even started a charity which provides opportunities for women teaching hairstyling and vocational skills across the world. Take a look at Love Naa Densua Foundation here.
Best for:
Natural hair Styling
Weaves & Hair Extensions

Braiding of Natural Hair & Extensions
Where to find them:
347 Portobello Road, London, W10 5SA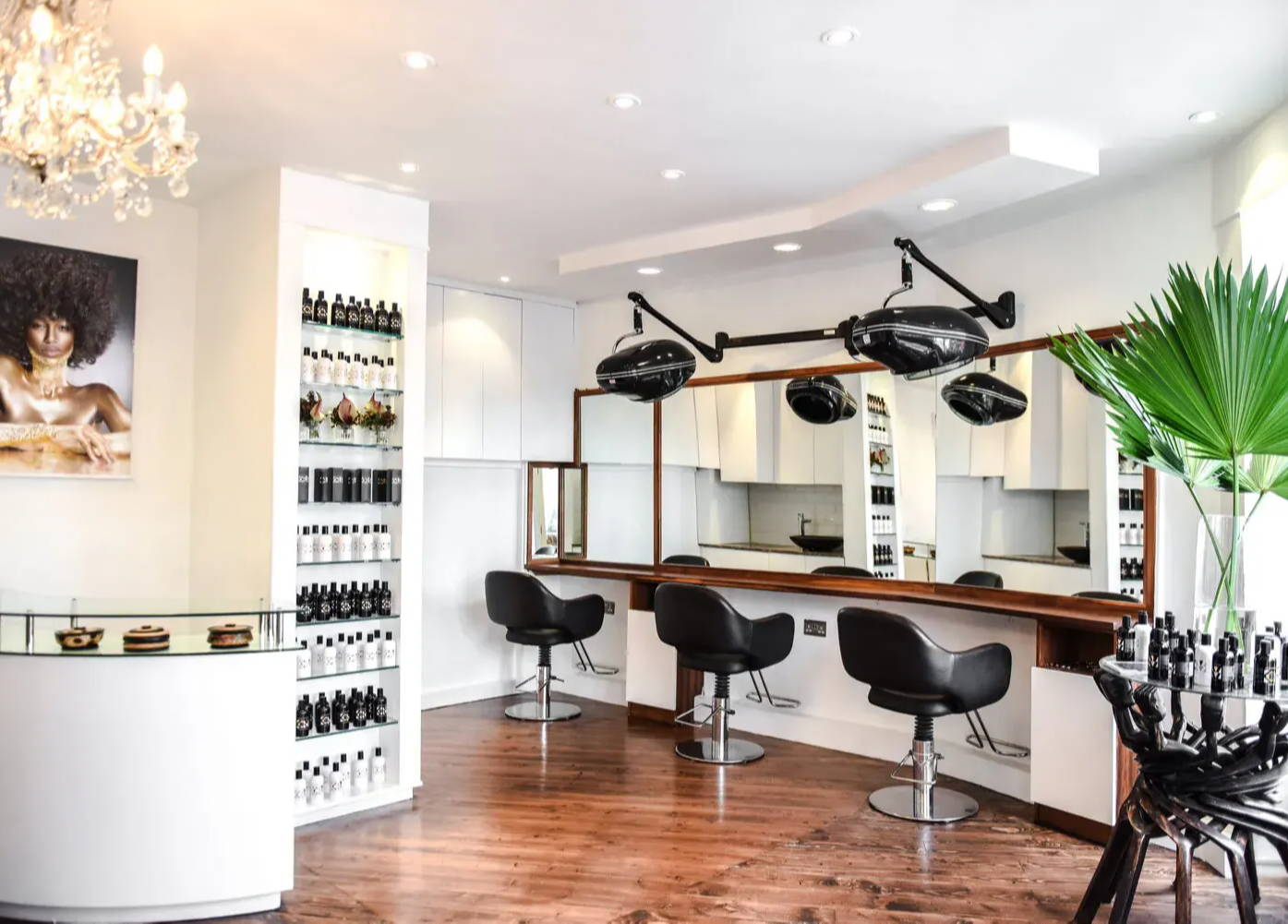 ---
Mimi Et Mina - @mimi_ET_MINA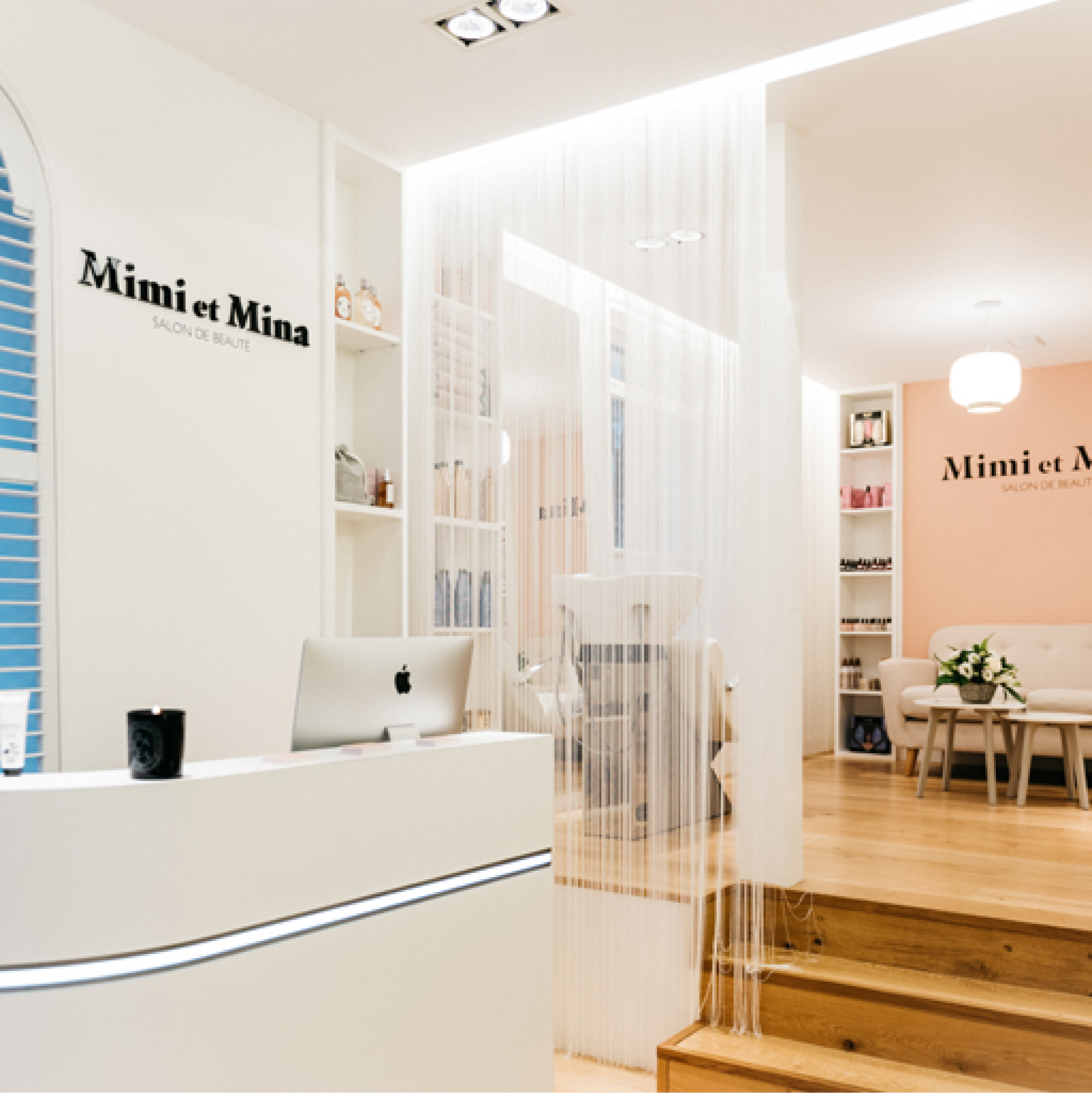 With celebrity clients, seriously luxe surroundings and afro & curly hair specialist Mimi Koné at the helm of this salon, you're in amazing hands.
Parisian-born Mimi named the salon after herself and her best friend (of 30 years!), Mina and firmly believes in providing a boutique service with exceptional customer experience and award-winning styling. It's all about elegance, a boutique approach and exploring the opportunity to change your hair, and experiment with different styles, as a "superpower".
She started Mimi et Mina after not being able to find salons that suited the needs of her hair whilst combining luxury and customer service as a priority.
Based in Notting Hill, Mimi et Mina handles everything from wigs, braids and twists, colouring, straightening, relaxers and natural hair treatments. The salon also sells premium hair extensions and hair care products for black hair.
Best for:
Premium hair extensions

Silk press

Hair colour and treatments
Where to find them
16 Needham Road, Notting Hill, London, W11 2RP
---
This collective of independent freelance hair stylists specialise in curly hair – their ethos is to appreciate what an individual's hair wants to do, rather than working against its natural texture.
They use their experience and knowledge – gained from years of working with curly and textured hair – to create a cut that suits the hair type and individual. With over a decade of working with different hair types, director Michael Price and his team focus on natural movement and bounce of curly and textured hair. It's never about "taming" curly hair.
Based in Notting Hill, they're fully certified in specialist cutting techniques for curly hair such as the Deva Cut and Curl by Curl. They're so dedicated to handling curls that they don't offer smooth blow dries, instead proclaiming themselves as a 100% curly hair dedicated salon. They're definitely considered a curly hair specialist salon in the industry.
Best for:
Curly cuts

Curly & Textured Hair Treatments
Where to find them:
Peoples Hall, 2 Olaf Street, London, W11 4BE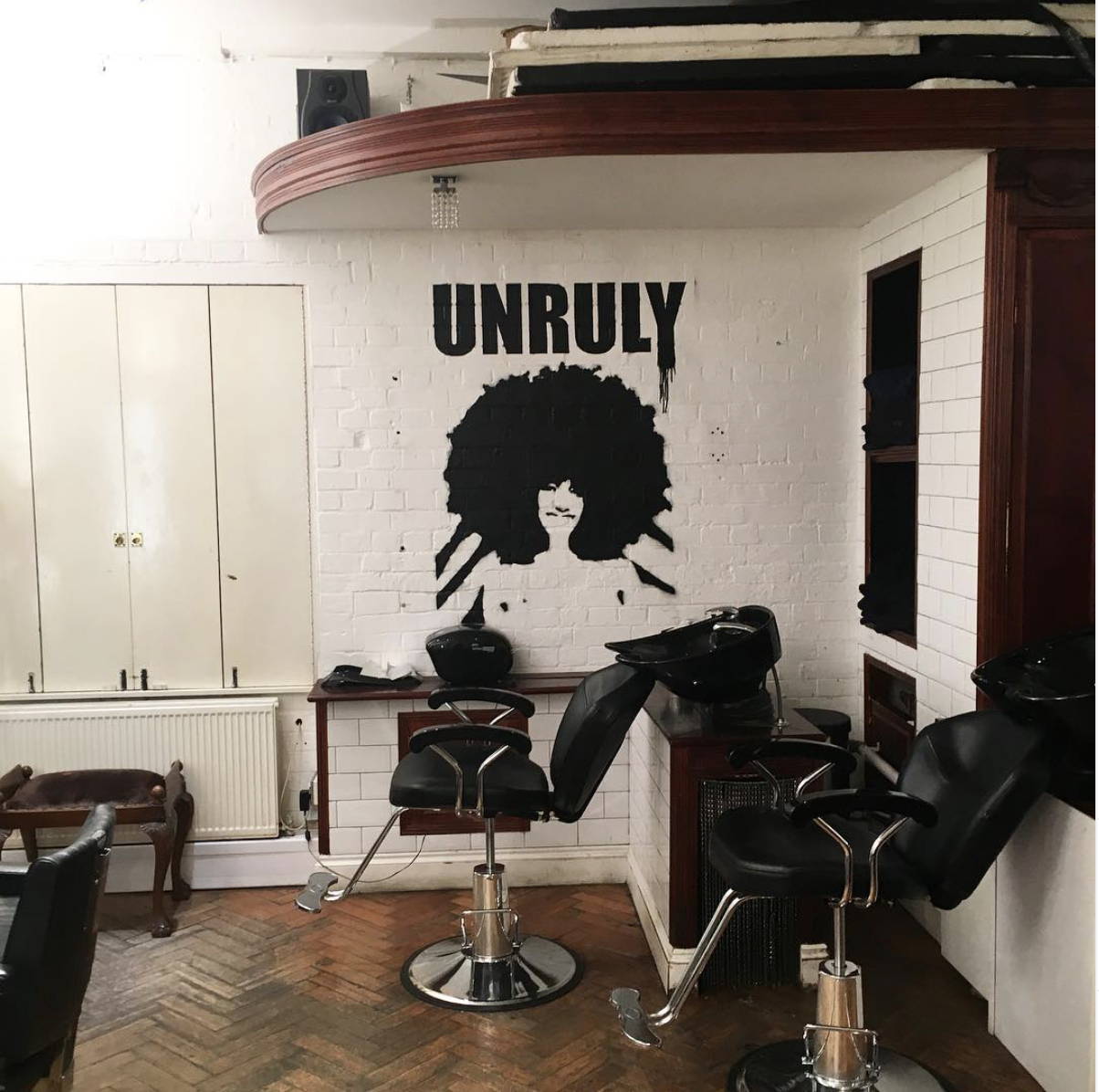 ---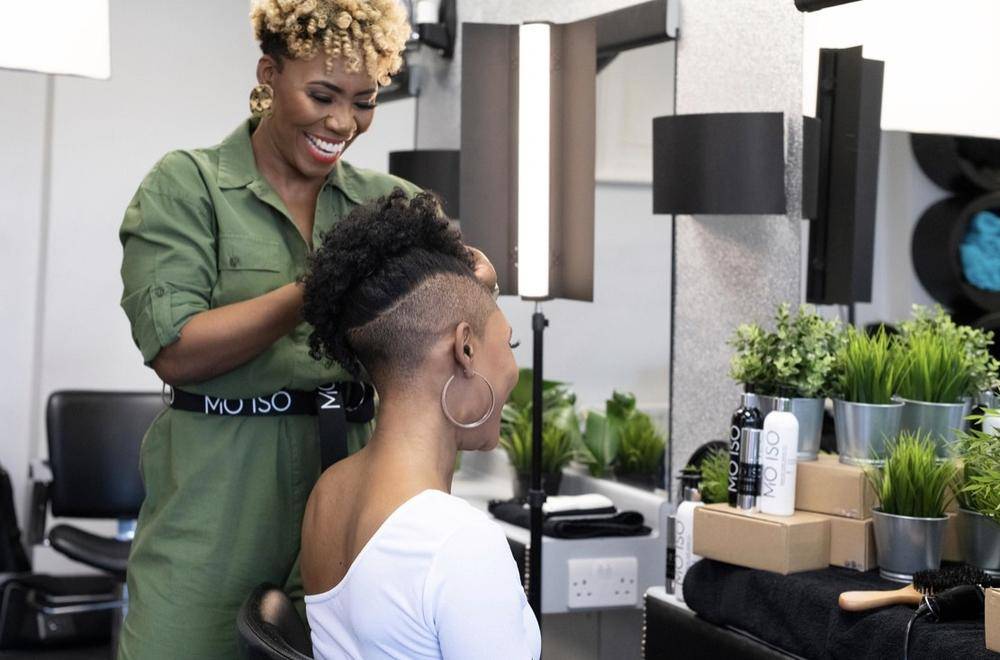 MO ISO's focus is on combining inner and outer beauty holistically – MO ISO stands for Make Me Over Inside Out. Their best-selling cut is the 'MO ISO taper', a tapered cut with a twist out finish that suits all face shapes and hair textures.
Founder Natalie Rodney-Powell has over 18 years of experience in the industry and is a self-taught stylist who started out cutting and styling her own hair into an asymmetric bob at the age of 16. After that she went on to study hair and makeup at the London College of Fashion.
Based in London, MO ISO specialise in making your visit to the salon an experience that focuses on you as an individual and offer a full range of treatments. They also sell their exclusive line of MO ISO products, specially formulated with black hair in mind.
MO-ISO Taper

Tapered cuts and shorter style

Relaxed Hair and Natural Hair Treatments

Hair Colour & Tints
78 Camberwell Church Street, Southwark, London, SE5 8QZ
---
Cococheno is based in Bristol and prides itself on stylists who can work with all hair textures, including afro and curly hair. Founded by professional stylist Leonie Northey, the salon brings together over 20 years of experience with expert knowledge of the latest styling.
Leonie founded Cococheno after discovering that there was a gap in the market for a salon that specialised in afro hair textures, but was centrally located in Bristol. They pride themselves on styling and hair care for all textures and being an inclusive salon.
Their stylish salon, experienced stylists and expert approach attracts clients from around the UK, Ireland and Europe. Recommended by Vogue as the best Afro/European salon in the South West, they do everything from styling, colouring, cutting, relaxing, perming and treatments for men and women
Best for:
Where to find them:
17 Nelson St, Bristol BS1 2LA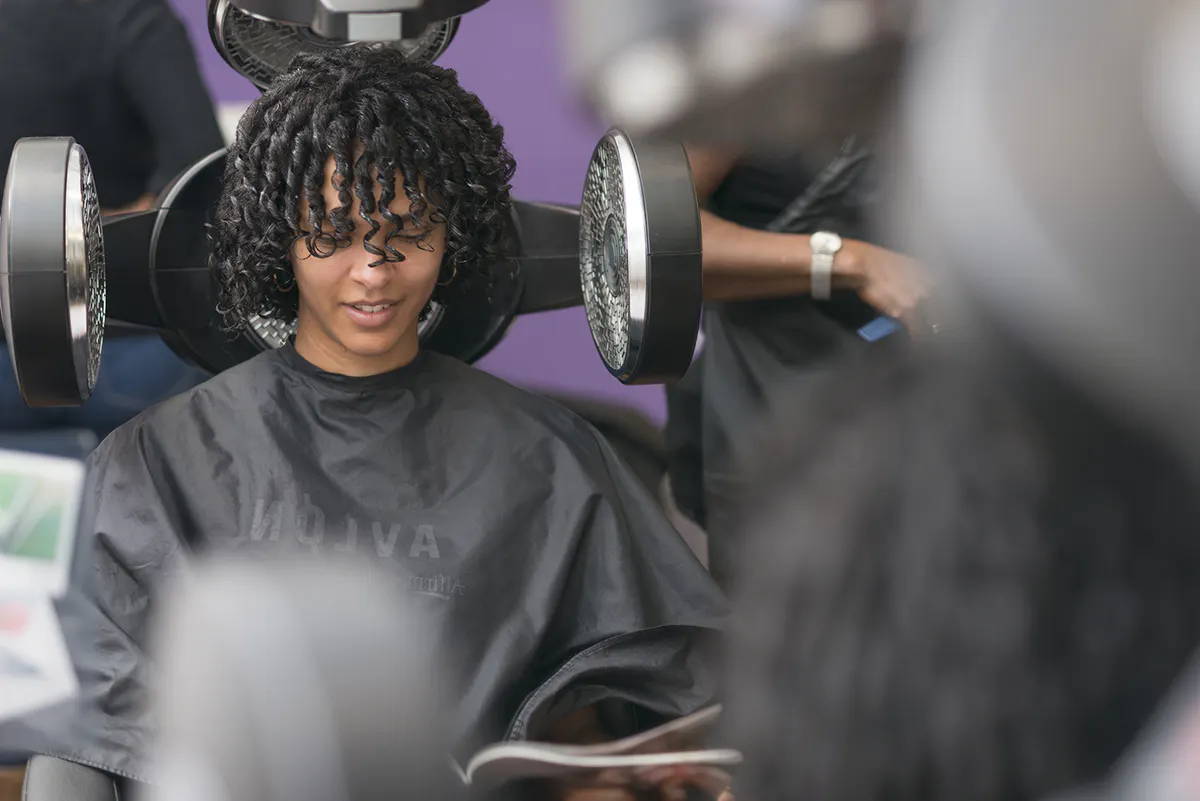 Klassic Koncept regularly wins Midlands Salon of the Year (2013, 2015, 2016 and 2018 to be precise). Their focus is all on their clients with a full range of services on offer – from cuts and styling, through to colour, relaxers and straightening – and transparent pricing.
They even have a trichologist on site that they can refer their clients to for any hair issues that go deeper than styling. It's a truly holistic approach to hair care with the interests of their clients at heart. They even offer free expert unbiased advice over the phone or in salon.
Klassic Koncept pride themselves on truly understanding curly and textured hair inside out.
Best for:
Hair Cuts & Trims

Natural & Relaxed Hair Styling

Specialist Hair Advice
9 Lower Severn Street, Birmingham B1 1PU