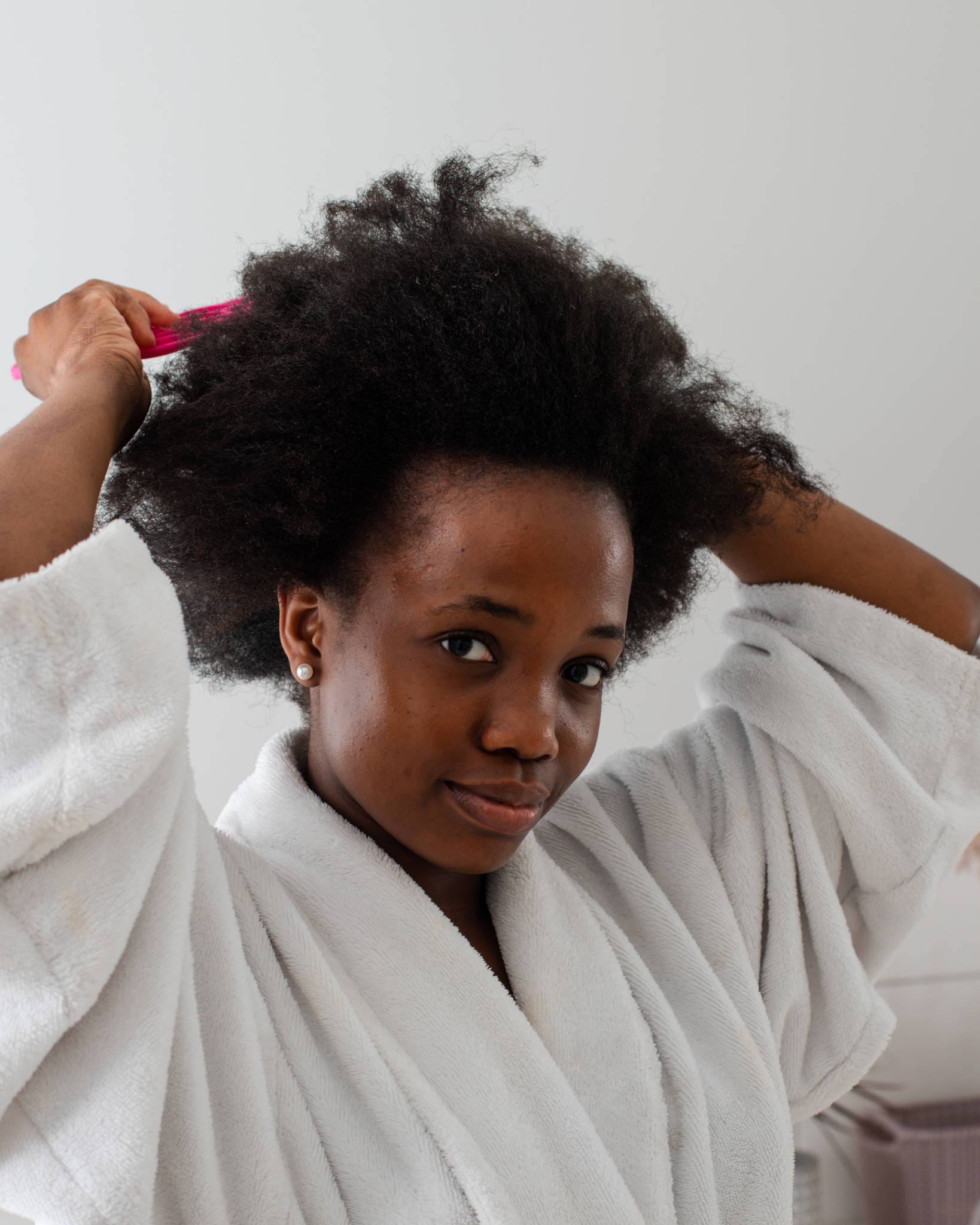 Guide to blow drying natural hair
---
Natural hair needs to be styled carefully to skip damage, breakage and encourage hair growth. Using too much heat, the wrong products or no products at all when you blow dry your hair can lead to damaged hair and a style that doesn't hit the mark.
Here's the steps to take to prep your hair for a natural blow dry. Getting the right products will help your natural hair to look and feel its best, without damaging or drying it out.
---
---
Start out with the right products. You need to wash your hair with a gentle, curl-friendly shampoo and conditioner like the Shea Moisture Coconut and Hibiscus Curl & Shine Shampoo. It helps to moisturise and define curly hair without sulphates or parabens.
Try co-washing. If your natural hair tends to be on the drier side, then take a look at co-washing to maximise moisture and avoid your hair and scalp from drying out. The Mielle Organics Detangling Co-Wash is a sulphate-free conditioner that's perfect for type 4 hair. It locks in moisture, strengthens the hair and prevents breakage,
Apply a leave-in conditioner. Once your hair is clean, add a leave-in conditioner to add moisture and detangle any knots in your hair. The Mielle Organics Pomegranate & Honey Leave-In Conditioner is lightweight while being seriously hydrating, adding shine and preventing frizz with a blend of babassu oil and citrus extracts.
Use a heat protector. Don't skip this step - a heat protector like the KeraCare 6 in 1 Thermal Protector designed for textured and curly hair. It helps to detangle and protect the hair from heat damage when styling with botanical extracts like moringa and marula oil.
---
---
---
How to blow dry natural hair
---
After you've prepped your hair and chosen the right products, it's time to start blow drying your natural hair. Start by squeezing out any excess moisture from your hair using a microfibre towel. Divide your hair into sections using clips. With your blow dryer on a low or medium heat setting, keep it moving slowly and evenly across your hair to begin to dry it. Keep it as far from your hair as you comfortably can with it still drying your hair.
Starting out at the roots, work the blow dryer down the length of the hair. You can use a comb attachment or round brush to help smooth and stretch each section. When you've repeated this throughout the sections of your hair, change to the cool setting of your hair dryer to seal the cuticle of your hair.
Once your hair is fully dry, use a shine spray, like the KeraCare Silken Liquid Sheen or the Aunt Jackie's Repair My Hair Argan Oil. These add shine, moisture and seal the cuticle for a smoothed-out look that'll last longer.
---
---
---
SHOP OUR TOP SKINCARE PICKS
---
---