at home with FLO Founders: tara CHANDRA and Susan Allen
Interviewed By: Nateisha Scott
As small business are pivoting and digging deep in the current situation, using this time to reflect and build, we speak with the Female Co-Founders of Flo to discuss how they built the brand to where it is today, the hardships that they have faced and how they continue to push forward under new pressures of the current pandemic


NS: Why and how did the brand start?
FLO: My co-founder, Susan, and I met in university during our Master's in 2013. We would catch up a lot in the London School of Economics bathrooms between classes - as one does! - and we often talked about ​how we wanted to start a socially impactful business. I had studied economics at Columbia and Susan was working for a major philanthropic organisation, and we both loved well-designed, eye-catching branding. This, combined with my despair that "I can't find organic tampons anywhere in London", was the 'aha!' moment behind our decision to start FLO. And what a journey it's been!
We only launched the brand properly 4 years later, after both Susan and I gained some more experience working in the UK - I with a start-up focusing on the restaurant industry and Susan continuing her journey with the philanthropy. This only strengthened our confidence in our belief that FLO simply had to be born. In April 2017, we've crowdfunded £14,200 from people who believed in our products as much as we did, and the first prototype of our ice-cream-tub tampons was ready to go. Fast-forward to 2020, you can now find us in major UK retailers like Boots, Ocado, Holland & Barrett, Morrisons - featuring a femcare line, a sensitive bladder and incontinence line, and soon to showcase a sexual wellness line.
Our mission has since developed into a strong commitment to delighting and honouring people with vaginas by making healthier, eco-friendlier products that are affordable, accessible and adorable. We're also donating 5% of our profits to Orchid Project, an organisation that fights to end Female Genital Mutilation, and we make regular product donations to Bloody Good Period and other organisations that are working towards ending period poverty.
NS: What hardships were experienced along the way?
FLO: The most challenging aspect of getting our foot on the door with FLO was the fact that there is no blueprint in the 'entrepreneurial universe' on how to start a business. So we had to figure out absolutely everything on our own. We really loved the brand that we created, but we also really wanted to do it justice. From the very beginning, we truly felt the responsibility of making the brand a success through our execution as well as through our ideas, so there was a lot of effort on our side to create products that were indeed healthier and more environmentally friendly than the mainstream. We're very proud of how we've overcome all those challenges and of the beautiful direction our brand has taken since the beginning.
NS: What was it about a brand aimed at women that was so important to you?
FLO: We thought it was important to create a brand that authentically spoke to the needs and desires of women, and that centered our experiences in its purpose. That's reflected in everything from the products we offer, to the charities we partner with, to the cheeky sense of humour we infuse in our brand voice, and ultimately to our mission of making the personal care industry more sustainable, and protecting our bodies and our planet at the same time.We wanted to create a brand we could see ourselves in, and that could make others feel seen as well!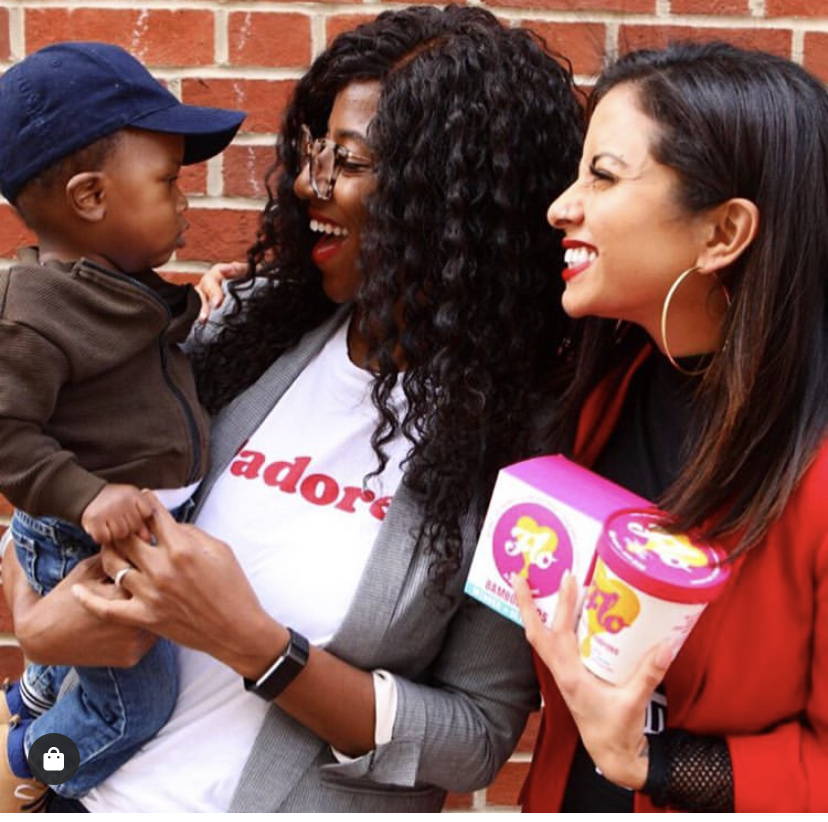 NS: With the current situation, what has the adjustment over the last few months been like for you?
FLO: We are really lucky to be in the position we are in right now - as they say 'periods don't stop for pandemics'! And the truth is, neither have we. Our tiny team of 4 has switched to working remotely, and we try to keep connected by starting off our day with a quick catch-up call. We found that beginning our days together has helped us stay in touch with every team member's current situation, and has also created a sense of structure in the way we prioritise our tasks for the week. And, as much as the current situation has affected us all personally, it also helped us see the importance of being there for each other and finding our focus together. We do think we'll come out of this period with a clear view of what we'd like the company culture to evolve into in the future.
NS: How are you staying motivated?
FLO: We all have different motivations these days, but most of them are centred around our
desire to make our brand a success - and we're such a small company that everyone's work is absolutely key! In our tiny team of 4, Susan and I are driven by the responsibility we have towards all of our stakeholders - from customers, to team members, to investors, to Susan's baby boy Benji! We want to make sure that we're navigating these challenges in a way that does justice to everyone involved in our development, but we're
also internally driven to always make the most of all the opportunities that come up! Liz and Diandra are newer to the team, so their professional development and desire to succeed in their roles and make their marks on FLO's success is also a key aspect. All in all, we are truly grateful for the fact that we have a lot of amazing projects to look forward to, and that we have a very supportive team that is there for each other through
thick and thin.
NS: What do you consider as self-care and do you have any rituals that helps ground you during this period?
FLO: As strange as this period has been, we found ourselves - like everyone else - enjoying the little things and making the most of what we're able to do. From short morning walks to clear our heads and get the ideas flowing, to video calling our best friends and families, to cooking new meals with our partners - we've all turned our focus to the simpler things and we're very grateful for finding ourselves in comfortable enough situations to do so. Sleeping well has also become a key part in all our routines, as there's nothing better than waking up feeling rested and ready to slay!
NS: The first thing you will do once the restrictions are lifted?
FLO: It's so difficult to imagine that happening right now, but we were just saying that we can't wait
to meet and hug each other and be able to work at The Wing again - the community and co-working space we were based at before the lockdown. As close as we are right now (there's only so much social interaction you can get over a daily Zoom call!), we all just miss being surrounded by so many amazing and driven women and feeling like we're part of a supportive community. We're really looking forward to having team brunches and socialising again, and to being able to meet our friends and family members, or even getting a manicure
or seeing our hairdressers again! We know there are so many businesses out there that we used to depend on and that are now struggling to cope, and we're really looking forward to things getting back to some degree of normality.