Female Founders Series
SuperFood Lx
At Home with super Food Lx
Co-founder Paula Francis
As small businesses continue to strive in the current situation, we speak with the Female Co-Founder and Co-Formulator of SuperFood Lx to discuss how they built the brand and the science behind their products.


CB: Tell us about yourself and how your brand was born?
SuperFood Lx: SuperFoodLx is a hair wellness brand that specialises in using superfood ingredients to help women; heal strengthen and grow their hair. Everything is formulated by myself- a Nutritionist and my mum - a Nurse
The idea for SuperFoodLx was born when I was living abroad and I experienced extreme hair loss and breakage. I lost my hair 2 inches up the nape of my neck and my hair broke and thinned out in various patches to the point where there was no hairstyle that I could use that could disguise it. As a short term solution, I bought my first ever wig.
This happened when I believed that I was using supposed organic and natural products but they were not and when I learned what the ingredients were on the ingredients list, I learned that the products had no natural or organic ingredients and that the ingredients actually served to degrade the hair.
I contacted mum and asked her to make something for my hair like she used to when I was a young. A few weeks later, a small pot of oil arrived in the post and after using it, within a few days my hair began to regain its usual strength and shine. I knew that if my mum could make something to create such a drastic and beneficial difference to my hair, I knew that we could help other people.
Every product we formulate is functional and remedial in their design. Every product is born out of problems both my mum and I have had with our hair over the years such as stress diet and hormonal imbalances as well as vitamin D deficiency and transitioning from relaxed hair to natural (which involves detoxing the scalp)
CB: Tell us more about your products available on Candour Beauty?
SuperFood Lx: Sure, we've got 5 products currently on the Candour Beauty website,
Mood Architect -Mood Architect is a unique blend of high performance, plant based nutrients to help design your emotions naturally. 5HTP is a precursor to serotonin, the 'feel good' chemical messenger which helps regulate our emotions, appetite and sleep cycle. Mood Architect's 5HTP is from the griffonia seed cultivated in the sun soaked lands of Ghana, Africa. Our vitamin D3 is sustainably sourced from the plant organism-lichen to provide your daily micro infusion of plant based sunshine. The benefits recorded from customer trials include decreased anxiety response and Improved sleep cycle within 10 to 21 days.
Kelp and Spirulina Hair Skin and Nails- SuperFoodLx's hair growth vitamins product HAIR SKIN & NAILS is vegan and gluten free and a 1 to 2 months supply of pure blend multi vitamins, minerals and chlorophyll rich plants.
Containing the nutrient rich seaweed-Kelp and fresh water algae Spirulina are renowned for their; super antioxidant power, high nutritional value and connection to accelerated hair growth, clear skin and beautiful nails. HAIR SKIN & NAILS is scientifically formulated with targeted nutrients to promote faster stronger hair growth with improved texture from the inside out with ingredients to aid improved nail strength and skin vibrancy.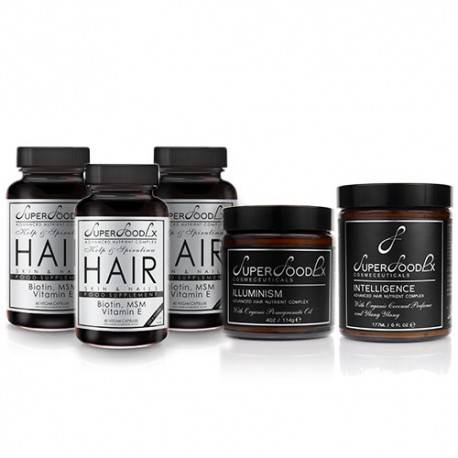 Hair Skin and Nail Oil
This is a truly versatile and potent hair, skin and nail oil which is 'dry' and velvety on application. Its a light weight, fragrance free, multi vitamin topical vitamin which just might be the best oil you ever use. Contains every naturally occurring vitamin A – K and omegas 3, 6, 7 and 9. Its rich in silica for collagen support and its ideal for brows, scalp, cuticles and hair length.
Intelligence Hydrating Hair Cream
Is a thick and luxurious nutrient packed cream to help heal strengthen and grow hair. Its can be used as a leave on or wash out treatment mask. Rich in vitamin E, trace minerals and omega fatty acids. Non greasy formula which soaks in quickly. Suitable for both scalp and hair application. Mild sweet orange and ylang ylang essential oil fragrance.
Illuminism Hair Balm
This is our light weight nutrient dense hair food to help heal strengthen and grow hair. Excellent to help seal in moisture for afro and dense curly hair types.
Rich in vitamin E, trace minerals and omega fatty acids. Suitable for both scalp and hair application. Excellent under wig and weave preparations. Refreshing and anti fungal rosemary and peppermint essential oil fragrance. Contains beeswax.
All products on the Candour Beauty website have been selected on the Candour Beauty site have uinque qualities suitable all kinky hair types and darker skin shade. They can be used individually or together as part of routine for best results.
The SuperFood Lx Collection
---